The Canadian Dividend Aristocrat list is a good place to explore prospective dividend stocks for buying. There are dividend stocks that grow their dividends at an incredible pace. Ideally, we aim to focus on dividend stocks with long-term growth trends.
Typically, the longer the dividend growth streak of a dividend stock, the better. But you've got to investigate its business and determine if more above-average growth is coming. And make sure you pay a reasonable multiple for the stock.
You can observe the one- and three-year dividend growth rates (DGR) to get an idea of recent dividend increases. Also, look at the five- and 10-year DGR. The 10-year rate will likely include a recession, which provides a glimpse of how resilient the business might be during tough economic times. Dig into the year(s) of recession for the real resilience of the business.
Here are some of the top Canadian Dividend Aristocrats with incredible five-year DGR. Stocks with high dividend growth tend to have small yields. (Typically, you would find blue-chip Canadian dividend-growth stocks growing dividends in the 5-7%. It would be amazing to find one growing its dividend at 10%.)
| | | | |
| --- | --- | --- | --- |
| Dividend stock | DG streak | 5-year DGR | Recent Yield |
| goeasy (TSX:GSY) | 6 | 35.1% | 1.6% |
| Agnico Eagle Mines (TSX:AEM)(NYSE:AEM) | 5 | 24.3% | 2.3% |
| Savaria (TSX:SIS) | 8 | 22.4% | 2.4% |
| Canadian Pacific Railway (TSX:CP)(NYSE:CP) | 5 | 20.5% | 0.8% |
| Enghouse Systems (TSX:ENGH) | 14 | 19.1% | 1.1% |
Source: Data for DG streak and 5-year DGR columns are from the Canadian Dividend All-Star list. Data for Recent Yield column is from Yahoo Finance.
We believe by going through many examples, investors can better identify the type of dividend stocks to invest in for long-term buy and hold or potentially sizing a position accordingly for trading. Here are five dividend stock examples.
goeasy
goeasy is a sub-prime lender in Canada. The growth stock came tumbling down to a price-to-earnings ratio ("P/E") of about 6.3 during the pandemic market crash, as I recall analysts initially projected roughly flat earnings growth. Who would have thought that the company ended up experiencing similar excellent growth as 2019 at +40%.
Brave investors could have rationalized that the stock traded at a margin of safety to its 10-year normal P/E of 11.75 during the pandemic market crash and just bought the stock. A P/E of 6.3 would have suggested a discount of ~46%.
Investors can still rationalize that the stock is a reasonable valuation trading at a blended P/E of 18.5 now for a going forward anticipated growth rate of +15%. However, there's no margin of safety from its historical normal valuation, as the stock trades at a 57% premium to the P/E of 11.75.
Investors who like the stock might nibble to leave room for adding on potential corrections.
Agnico Eagle Mines
Even though AEM has had outperforming recent dividend growth, looking at the gold producer's roller coaster like earnings and long-term dividend history with dividend cuts, you can tell it's not a secure dividend stock. Rather, it'd be a better candidate for those seeking total returns.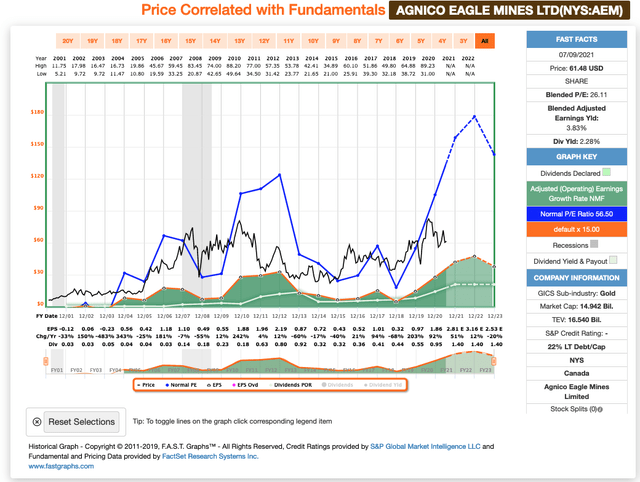 No one can blame the company, whose profits primarily relies on the underlying commodity prices — namely gold, silver, zinc, and copper.
We prefer to look at the analyst consensus price target to reduce bias from a single analyst (including ourselves). As the 12-month price target suggests, the gold stock could appreciate ~43% from US$61.48 per share.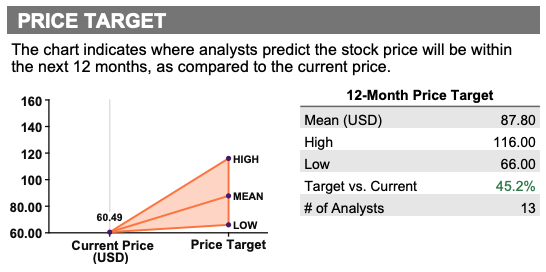 Savaria
Savaria provides accessibility solutions for the physically challenged to increase their comfort, mobility, and independence. It generates sales in more than 40 countries with 30 direct sales offices, over 1000 dealers and 15 manufacturing or distribution facilities, in 12 countries.
The dividend stock's last dividend hike in September 2020 was 5%, as its 2020 payout ratio was getting high, close to 90%. The company's earnings per share dropped marginally last year. In Q1 2021, it saw a strong rebound from the flat growth with revenue up 27% and adjusted EBITDA up 40% with the adjusted EBITDA margin expanding from 14.0% to 15.4% year over year.
The global company benefits from the megatrend of a growing global aging population and longer lifespans.
The spark of new growth starting this year could lead to above-average dividend growth.
Canadian Pacific Railway
CP Rail, as an essential transporter of goods across the continent, has been an excellent long-term dividend payer. However, the focus is really on total returns as its yield has been tiny most of the time.
From before the last global recession, it has delivered an average total return of ~16% per year.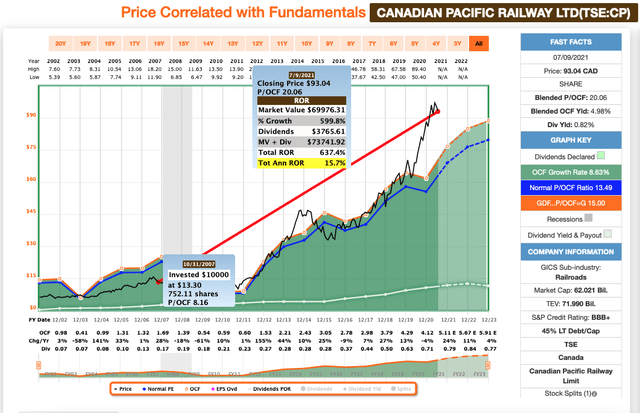 Enghouse Systems
At a certain degree, Enghouse Systems's growth relies on its M&A activities. This can make its earnings growth bumpy. The stock corrected meaningfully from last year's high because it experienced outsized growth last year. In comparison, this year's results are expected to be less impressive. However, new M&A activity could help drive double-digit growth again down the road. If so, the stock would be considered discounted on a forward basis.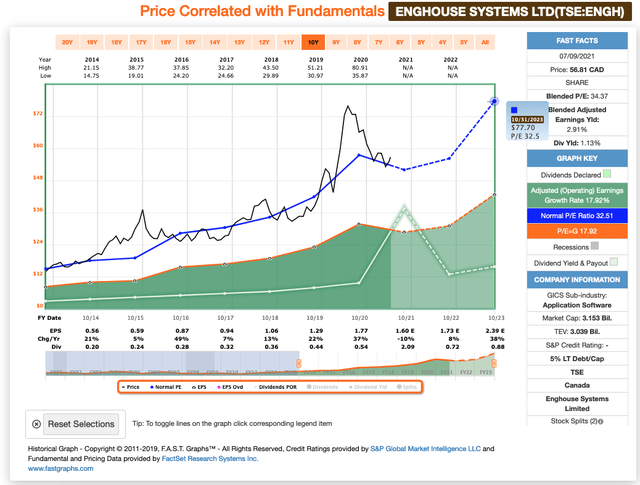 Enghouse Systems stock has a track record of delivering long-term staggering returns. Since before the last global recession, it has delivered annualized returns of 22.6%. Its five-year return on equity is about 19%.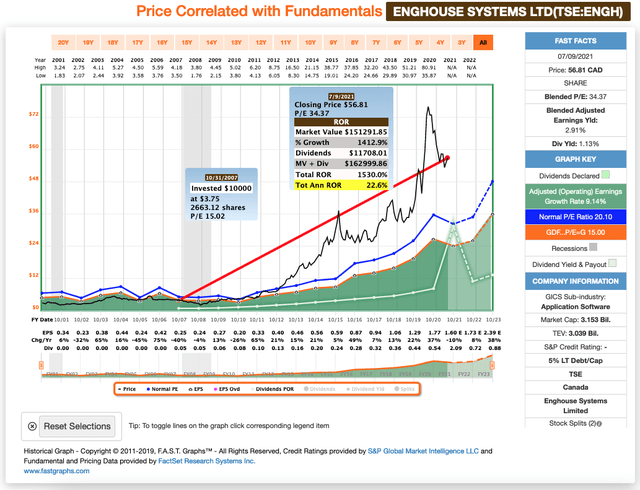 Investor Takeaway
Seeking total returns and a greater income growth rate? Aim to invest in dividend stocks that tend to deliver persistent high growth in earnings or cash flow over multiple years.
Of the five Canadian Dividend Aristocrats introduced, we believe AEM could be a potential trade candidate for those interested in that kind of investing. goeasy, Savaria, CP, and Enghouse could all be long-term holdings with the intention for investors to buy opportunistically at good valuations.
If you like what you've just read, consider subscribing via the "Subscribe Here" form at the top right so that you will receive an email notification when I publish a new article.
Disclosure: As of writing, we own shares of ENGH, GSY, and SIS.
Disclaimer: I am not a certified financial advisor. This article is for educational purposes, so consult a financial advisor and or tax professional if necessary before making any investment decisions.
Get Exclusive Articles from me on Seeking Alpha
Access my portfolio of high-quality U.S. and Canadian dividend stocks.
Real-time updates of when I buy or sell from this portfolio.
Get best ideas of the top 3 dividend stocks from my watchlist. Updated each month.
The post 5 Canadian Dividend Stocks with Incredible Dividend Growth appeared first on Passive Income Earner.
Source: http://www.passive-income-earner.com/
Passive Income
Passive Income