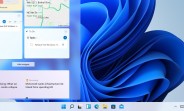 You can now test Windows 11 through the first Insider Preview, if you enroll in Microsoft's Insiders Program.
The preview build 22000.51 brings most of Windows 11, but doesn't feature the new Microsoft Teams Integration nor Android apps through the Store, those will come at a later time.
Among the novelties is the revised settings menu with a persistent navigation bar on left side (so you finally don't get lost in a heap of menus), an updated File Explorer, the new look, featuring four new themes – Glow, Captured Motion, Sunrise and Flow, along with new sounds.
The redesigned…
Source: https://www.gsmarena.com
Gadget news
Gadgets News