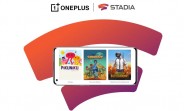 OnePlus has announced that it is offering Stadia Premiere Edition free to customers who purchase a new OnePlus smartphone from its official website.
The Stadia Premiere Edition is a bundle that includes a Stadia Controller and a Chromecast Ultra, but the offer isn't applicable on all OnePlus smartphones. Only those who buy the OnePlus Nord, 8 Pro, 8T, 9, or 9 Pro are eligible for a free Stadia Premier Edition.
Besides, this offer is currently only available in three countries – France, Germany, and the UK.
If you live in any of these countries and buy one of the eligible…
Source: https://www.gsmarena.com
Gadget news
Gadgets News