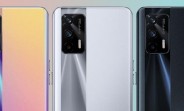 Realme was supposed to launch its X7 Max 5G smartphone in India today, commemorating its three-year anniversary. But the announcement was postponed due to the devastating ongoing COVID-19 wave India.
We had previously heard that the Realme X7 Max 5G was a rebranded GT Neo and that has now been confirmed by an image of the phone's retail box.
It shows part of the specs, including the 5G-enabled MediaTek Dimensity 1200 chipset and the 120Hz-capable AMOLED display.
Image source: @Gadgetsdata
So we are likely also looking at a 6.43-inch 1080p Super AMOLED for the Realme X7 Max, a…
Source: https://www.gsmarena.com
Gadget news
Gadgets News