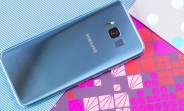 Samsung has officially taken the Galaxy S8 series off its list of supported devices after little over four years of updates.
Up until now the former flagship phones were getting biannual updates. Interestingly the Galaxy S8 Active is still supported for quarterly security updates, while the Galaxy S8 Lite for biannual ones.
The last update the Galaxy S8 received was the April 2021 security patch.
The Samsung Galaxy S8 series launched in April of 2017 with the then-new wide-aspect 18.5:9 displays, which ushered in the new on-screen navigation (yes, before the Galaxy S8 there were…
Source: https://www.gsmarena.com
Gadget news
Gadgets News