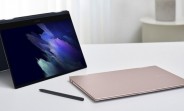 Samsung and Wacom have been partnering for 10 years now, ever since the first S Pen made an appearance with the huge-screened by the standards at the time Galaxy Note.
Samsung is the largest phone maker in the world, while Wacom is renowned for its digital pen tablets. Together they make devices that have almost no rivals in the smartphone world.
The pair's latest joint-product is the Galaxy Book Pro 360′ S Pen, which is different from its tablet and smartphone counterparts.
Starting with the size, the S Pen that comes with the Galaxy Book Pro 360 laptop is thicker than your…
Source: https://www.gsmarena.com
Gadget news
Gadgets News